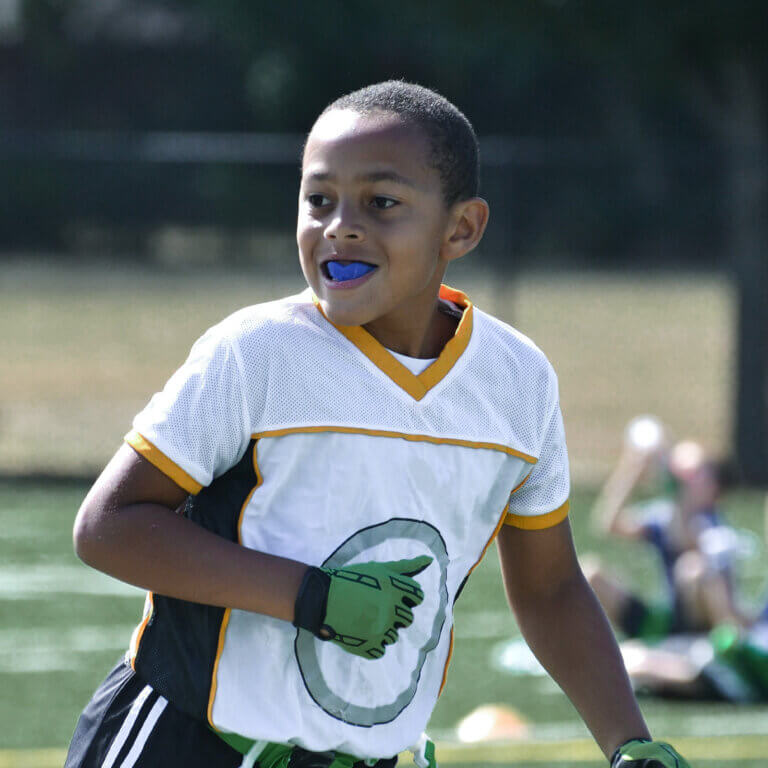 Superior protection for your all-star athlete
When your child decides to play a sport, you want to ensure they are equipped with the best protection and equipment possible. Often overlooked is a quality, custom-fit mouthguard! Contact Southmoor Pediatric Dentistry to get started.
Schedule your fitting today
A custom mouthguard can prevent sports from becoming costly for your child's teeth
Helmets, shoulder pads, knee pads…and custom mouthguards! While it is possible to buy a mouthguard at a sporting goods store, nothing compares to the protection that comes from a custom-fit molded mouthguard from Southmoor Pediatric Dentistry. Athletes are 60 times more likely to damage their teeth when they don't wear a protective mouthguard—so your child should begin wearing one as soon as they start any type of contact sport.
Superior protection and comfort
Unlike over-the-counter mouthguards, custom mouthguards are made from specialized plastics built to do a better job of withstanding impact, absorbing and redistributing shock, and protecting your child from head and neck injuries such as concussions, jaw dislocations, jaw fractures, and broken or lost teeth.
Good habits for life
Children who begin wearing a custom mouthguard at an early age tend to continue this habit into the future. Custom mouthguards fit and feel better in your child's mouth, allowing them to speak and breathe easier (so they're also more likely to keep their mouthguard in).
What to expect
The cost to replant a tooth, including the lifetime follow-up dental care, can reach $10,000-$15,000 per tooth. You know the drill: a custom mouthguard can help prevent costly and painful injuries like these.